Who is Flex? Meet John Wells, Customer Service Flex-pert
Fun Fact: John is a heavy lifter, both in his ability to lead a fast-paced, busy customer service organization and his pursuit of world records in weightlifting.

While Flex gets plenty of attention for our slick, easy-to-use patient communication software, our team is what really gives our company "buzz" around the industry. We say it all the time (but we will never state it enough) - great service is the foundation that we are growing our business on. It's the mindset behind everything we do. Because service is that important to us, we don't trust our customer relationships with just anyone - we look for team members that take ownership of the success of each and every Flexer.

Meet John Wells, a former NCAA football player turned customer service savant, who's continuing to utilize his competitive spirit off the field and in the game of technical support supremacy, pushing his team and himself to deliver a stress-free and memorable customer experience. And, if the feedback we get from our customers that interact with our support team is any indication, we have entrusted the leadership of our customer experience and support team to the right guy.
Who is John?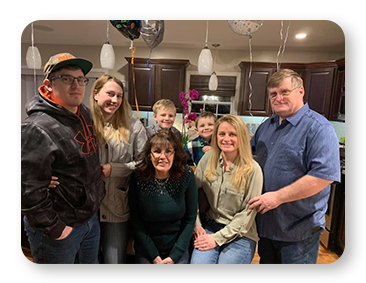 I'm a guy who was always surrounded by family members (that's me on the far left) who had a passion for helping others, so it's fitting that I've gravitated toward customer-focused industries. I've worn lots of hats over the years - personal trainer, landscaper, and hiring manager for one of the nation's largest job-placement firms prior to joining Flex. In my day-to-day role at Flex, I lead the support and service team under the simple premise that a memorable service experience builds great customer relationships.
Our opportunity to create a great customer experience begins the second we receive a support request. Goal number one is to be ridiculously quick in connecting with any customer that needs our help. In these situations, many customers are dealing with a stressful situation where they need some technical guidance and the clock is ticking. The job of our entire team is to actively listen to fully understand the challenge the customer is facing, reassure them that we will fix their issue quickly and correctly, and to always follow up to make sure our customer has been taken care of and has no further questions or concerns. Again, we want each Flexer that interacts with us to walk away from the experience feeling that while their problem was in our hands, they were our only priority.
Now, Who is the Real, Off-the-Clock John?
I'm a competitor at heart so most of my hobbies involve competition, whether it's sports, gaming, or weight lifting. I always want to challenge myself to become better at everything I do. I'm an avid football fan - I played football starting at age 3 until I was 25.
Powerlifting is one avenue I use to constantly push and challenge myself - I was in the top 25 in the United States Powerlifting Association and I'm constantly striving for more personal bests.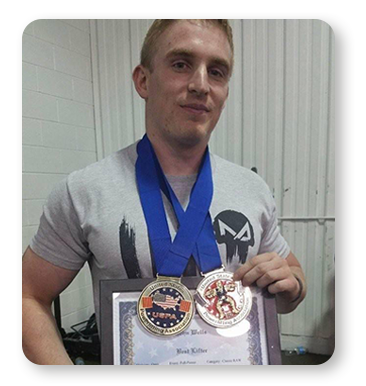 Family is crucially important to me - I have two nephews and a large extended family that I enjoy hanging out with. We make time to get together every couple of weeks when we aren't quarantined during a pandemic.
What Would People Be Surprised to Learn About You?
I build my own gaming PC's and love learning about new technologies. Although most people know that I'm into competitive sports, not everyone would guess I'm into gaming. But, it's another creative and competitive outlet that I really enjoy.
A Quote You Live By
"Hard work overcomes talent when talent refuses to work hard." - Tim Notke
How Did You Become a Flex-pert?
I'm proud to say I was actually one of the first people hired at Flex when our CEO, Brennon Dean, was starting the company. I have taken a ton of pride in not only helping to build the reputation our support team has now, but also for fighting to achieve the highest standards in support metrics in the industry. Knowing that Brennon started the company to help his wife Jen and her dental practice really intrigued me - Flex had a real family feel to it. I see it as a responsibility to deliver a very personal level of care through our entire support team.
The Best Thing About Working for Flex?
The big reasons I enjoy being at Flex are being the driving force behind building a well-oiled machine for our support system and offering quick, efficient help to all of our clients. I enjoy pushing the boundaries of what are considered "standards" for software support and hope to keep increasing our efficiency at every level.
It always puts a smile on my face to know that something we have done while assisting a client helps their staff work with less effort so they can enjoy their day more and focus on their patients.
Final Thoughts?
Go Syracuse!
Ready to learn more about Flex?

If you're an Open Dental user looking for a patient communication solution, please ask for opinions of our solution from other Open Dental practices. We pride ourselves on creating Flex fans for life. The words of our customers are our best reference and we think you'll like what you find.

Our team members are all what we affectionately call "Flex-perts" and make it a priority to address all requests quickly and knowledgeably. If you have any questions or would like to learn more, please click the button below and submit your questions online. A member of our team will connect with you shortly and help you understand the value that Flex can bring to your practice and your patients.