Who is Flex? Meet Chris Koch!
Fun Fact: Chris is a big fan of The Simpsons and even has a dog named Flanders
From branding to content creation, Flex relies on our marketing team to put our best foot forward in communicating with the dental industry. So, who is behind the scenes pulling the proverbial marketing strings? It's Chris Koch, a long-time dental technology marketer that joined Flex as his next big adventure. Let's meet Chris!
Who is Chris?
I'm a guy that loves creative outlets - drawing, graphic design, writing, and video are all things I enjoy, so getting to combine my knowledge in these areas with strategic thinking in my career is awesome. Marketing also gives me tons of opportunities to learn something new!
Now, Who is the Real, Outside-the-Dental-World Chris?
I'm a native Georgian, born and raised right outside of Atlanta. I'm a huge baseball fan and love the Atlanta Braves. I have an awesome family that I love spending my time with, whether it's running my kids to one of their many activities or just hanging out watching movies or playing sports.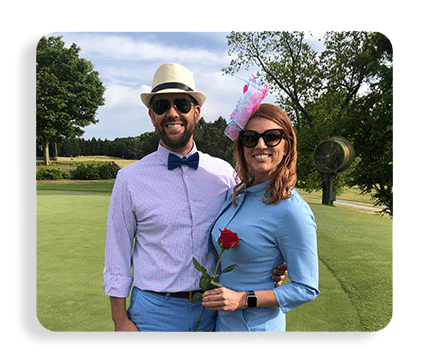 What Would People Be Surprised to Learn About You?
I love superheroes & science fiction, so I'm a self-professed geek - although that is probably not surprising to anyone that's met me!
A Quote You Live By
"Never let the fear of striking out keep you from playing the game." - Babe Ruth
How Did You Become a Flex-pert?
I've spent the majority of my career in the dental industry and I've been fortunate enough to make quite a few great friends over the years. When I heard through a couple of friends that Flex was looking for someone to join their marketing efforts, I took a look at the product and the company culture - I jumped at the chance to become a part of this team. It was a really easy decision to make!
What is Your Favorite Thing About Flex Software?
Flex is a thoughtfully designed product with features that have been developed to not only solve efficiency problems that dental practices face but to also approach workflows in a way that improves the staff and patient experience. A great example of this is Flex's treatment planning module.
First, it looks great, so it makes a nice impression on patients. Second, rather than just listing a treatment recommendation, Flex's treatment plan module provides a detailed summary, estimated insurance, the estimated portion the patient is responsible for, and even lists payment choices so the patient can understand their financial options. The patient can even pay directly from the treatment plan. There aren't many software products I've seen in my career that are designed with that level of consideration in creating an optimal, efficient workflow for both staff and patients.
The Best Thing About Working for Flex?
The people here are next-level when it comes to their love of this company and our customers. I'm grateful to work with this team every day!
Final Thoughts?
Go Braves!
Ready to learn more?
If you're an Open Dental user looking for a patient engagement and communication solution, please ask for opinions of our solution from other Open Dental practices. We pride ourselves on creating Flex fans for life. The words of our customers are our best reference and we think you'll like what you find.
Our team members are all what we affectionately call "Flex-perts" and make it a priority to address all requests quickly and knowledgeably. If you have any questions or would like to learn more, please click the button below and submit your questions online. A member of our team will connect with you shortly and help you understand the value that Flex can bring to your practice and your patients.