How to Improve Patient Communications and Get More Positive Reviews for Your Dental Office
At the heart of any successful dental practice is patient communication. When patients feel well-informed and involved in their own care, they are more likely to leave positive reviews and spread the word about your practice. And, if you communicate with them in a way they prefer, such as via text, all the better! In this blog post, we'll explore a few ways to improve patient communications and get more positive reviews for your dental office.
The Importance of Good Patient Communications
When it comes to dental care, patient communications are essential, from scheduling an appointment to checking out at the end of a visit. Providing online scheduling options and automating appointment reminders are effective ways to reduce no-shows and cancellations. Having software like Flex Dental that integrates with your practice management platform will help ensure your team is on top of this critical component of your practice.
It's important for patients to understand their treatments and options so that they can make informed decisions. Good patient communication is also a key part of building trust and making sure that each patient has a positive experience in the dental office.
Effective patient communications should include clear information about procedures, fees, and any potential risks. The dentist or staff should always answer questions from patients in a friendly and knowledgeable manner. They should also be able to explain complex information in terms that are easy to understand.
Patients also appreciate when the staff remembers their names, treats them with respect, and makes them feel at ease. This shows that the dental office cares about its patients and wants to provide the best possible service.
Finally, effective patient communications include follow-up after the appointment is over. This could mean sending out emails or text messages to remind patients of upcoming appointments or to see how their treatment went. Following up with patients is a great way to show that you want to provide the best care possible and value their business. You can use surveys or questionnaires to get feedback on their experiences, which can help you identify areas where you need improvement. Additionally, it gives your team an opportunity to address any issues that may have arisen during the visit.
To encourage more reviews and ratings online, try creating incentives such as discounts on future visits or special offers only available to those who leave reviews. You can also reach out to past patients via email and ask them to rate your services on various review sites. Flex Dental enables practices to use a fully automated approach or to simply push our requests whenever they like to increase their number of reviews.
Another way to promote your dental office is through word-of-mouth advertising. Ask your existing patients if they would recommend your services to friends and family, and encourage them to leave reviews online. This can help spread the word about your practice and get more people in the door.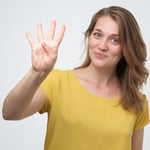 4 Ways to Improve
Patient Communications
Automate Patient Communications:

Automation can help streamline your patient communications and make sure that no one slips through the cracks. Utilizing Flex's automated tools will help ensure your patients are aware of upcoming appointments and other important information

.
Develop a Patient Communication Plan: Developing a plan to ensure that patients receive consistent, timely communication is essential for any dental office. Outline the types of communication you will provide, when it should be delivered, who should be receiving it, and how it should be sent. This will help to ensure that all your patients have the same experience.
Personalize Your Communications: Personalized messages make a difference in how your patients feel about their care. Showing appreciation for their visit, sending birthday cards, or offering helpful advice based on their individual needs can make them feel like more than just another customer.

Communicate in the Way Patients Prefer: Be sure to ask your patients how they prefer to communicate with you, whether it's email, text message, or over the phone. Respect their wishes and make sure that you are communicating with them in the way they prefer.
Getting More Positive Reviews
The key to success for any dental office is to ensure that you are consistently receiving positive reviews from your patients. This can be done through a few different strategies, such as automating the process of requesting reviews from patients and knowing when to ask for them. Let's take a look at some of the ways you can boost the amount of positive reviews for your dental office.
How to Automate Requesting Reviews:
One of the most effective ways to receive more reviews for your dental office is to automate the process. By using automated patient feedback systems like Flex, you can send out emails or SMS messages to all of your patients after their appointment, asking them to review your practice. This will not only save you time and energy but will also ensure that you get a steady stream of reviews.
When Best to Ask for Reviews:
In order to maximize the effectiveness of your review-requesting process, it's important to know when the best time is to ask for reviews. Generally, the best time to do this is right after a patient has completed their appointment. This ensures that they have a fresh memory of their experience and are more likely to leave a positive review. Additionally, if you have multiple locations, you can set up automated systems to request reviews in each location individually.
How to Publish the Positive Reviews:
Once you start receiving positive reviews from your patients, you should then make sure that these reviews are visible on your website and social media channels. Not only will this help to improve your online presence, but it will also create trust with potential customers and show them that your practice is reliable and trustworthy. Furthermore, you can also use these reviews in your marketing materials, such as postcards.
By implementing these strategies, you should be able to increase the number of positive reviews for your dental office and build a stronger relationship with your patients. With a good patient communications system in place, you can ensure that your patients leave satisfied and come back again in the future.