Who is Flex? Meet Ashley Palen!
Fun Fact: Ashley loves to sew and has even made her own pair of jeans.
One of our goals at Flex is to deliver a customer experience that is memorable and unique among patient communication solutions for Open Dental. We know that there are moments when our team has the opportunity to go that extra step. You know, that step from "good" service to an "I've got to tell all my friends about this" experience.
How do we supercharge your customer experience and create Flex fans for life? By scouring the dental industry to find people like Ashley Palen, one of our customer experience managers and an expert in dental practice efficiency. Let's meet Ashley!
Who is Ashley?
First and foremost, I'm a people person. I've been in the dental field for over a decade - I started as a dental assistant and quickly moved over to the administrative side. From scheduling coordinator, treatment director to office manager - I've worn several hats and I've loved all of them!
Now, in my role at Flex, I get to take the experience I've built over the last 10 years and use it to help our customers (Flexers) build efficiencies that give them hours back in their day. And, I get to constantly meet new people, learn about their dental practices, and build those customer relationships.
Now, Who is the Real, Outside the Dental World Ashley?
I love to learn and I'm always challenging myself to grow, especially through new hobbies. I sew, make pottery, and cook (especially baking).
I always want to be developing from who I was yesterday, to be 1% better each and every day. I want to be able to look back on my life when the time comes and be proud of the way I used my minutes.
What Would People Be Surprised to Learn About You?
I love to sew - clothes mostly! My most recent finish is a pair of jeans and that was a great learning experience and they actually fit!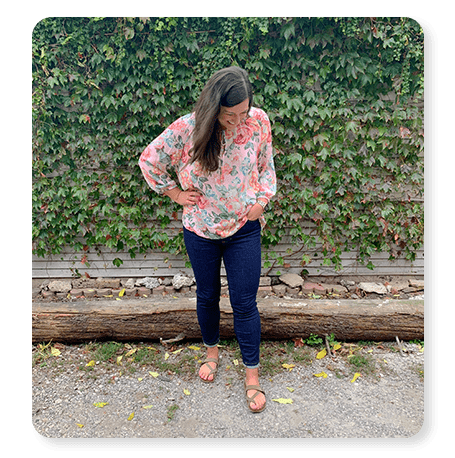 I am also an only child and only grandchild on my mother's side. Our Christmases are always a hoot!
A Quote You Live By
"Whether you think you can or think you can't, you're right." - Henry Ford
How Did You Become a Flex-pert?
Back when I was an office manager, I found out about Flex through a social media group for Open Dental users. We signed up for Flex, installed it, and immediately LOVED how much Flex improved our productivity. Basically, every single second using Flex gave us time back in our day.
Over my years as an office manager, I met Brennon, the founder of Flex, and many of the Flex team members. I loved working with the Flex team as a customer, so when a position opened up, I decided to join the team!
What is Your Favorite Thing About Flex Software?
I love the fact that Flex feels so much more like an appendage to Open Dental instead of an accessory. The way Flex integrates directly with Open Dental saves practices so much extra work because their team doesn't have to spend time importing information into Open Dental.
My practice spent so much time importing, matching, and correcting patient information when it was manually entered. Flex eliminated those steps and gave my team hours back on a weekly basis to focus on patient care. No other software I had used returned that much working time to our administrative team. It freed us up to have time to get to know our patients during check-in and check-out and, instead of importing their information, we could use that time to develop those long-term relationships.
The Best Thing About Working for Flex?
For me, it's always about people! Our clients and my fellow Flexperts are truly awesome! Our customers always keep me thinking of great solutions to obstacles they face on a daily basis. I love being able to work with dental practices and show them how Flex can give them time to do the things they really want to be doing. The Flex team is full of hard working, fun people who enjoy what they do and make the workday so good! In all seriousness, I do feel so lucky to be here and get to do a job that I love!
Final Thoughts?
If you are a Flexer, I'm excited to work with you!
Ready to learn more?
If you're an Open Dental user looking for a patient engagement and communication solution, please ask for opinions of our solution from other Open Dental practices. We pride ourselves on creating Flex fans for life. The words of our customers are our best reference and we think you'll like what you find.
Our team members are all what we affectionately call "Flex-perts" and make it a priority to address all requests quickly and knowledgeably. If you have any questions or would like to learn more, please click the button below and submit your questions online. A member of our team will connect with you shortly and help you understand the value that Flex can bring to your practice and your patients.