Improve Your Dental Marketing with Flex as Your Sidekick
Who is your favorite sidekick of all time?
As a kid, I loved reruns of the Batman television show starring Adam West as Batman and Burt Ward as an overly-enthusiastic Robin. Robin was the ultimate sidekick, always there to fight crime and provide a witty, albeit cheesy, one-liner. Later on in life, I realized Batman was played for laughs but, at the time, it was serious business to me. Batman was a hero and Robin was his trusted partner.
Many of our customers come to us because their practice needs a partner in improving their patient communications and giving their efficiency a boost in their Open Dental software. Like Robin, we jump right in to help. However, while supercharging patient communication and powering up your efficiency are our main strengths, Flex can also contribute to your practice's success through other avenues.
Flex as a Dental Marketing Sidekick
Flex is adept at building custom communications via email and text to keep your patients informed of appointments, unscheduled treatments or follow ups. Flex is also a wizard at helping manage your accounts receivable through our FlexPay feature while minimizing those stacks of paper with integrated online forms. But, Flex is a sidekick with a secret identity - the features it provides to your team can also contribute to your marketing efforts AND help attract new patients.
FlexBook: Online Scheduling Convenience
In a recent survey, 44% of respondents said they would choose a healthcare provider that offers online scheduling versus one that does not. This statistic illustrates the patient prioritizing convenience above all else, a trend that is surely being seen in all aspects of our lives. So why not offer functionality on your website and social media profiles that patients are asking for?
FlexBook, our online scheduling module, gives your patients the ability to book appointments in real time, so they can see what times are available, submit their information and confirm their appointment, whenever it is convenient for them.
On the back end, Flex users have full discretion to manage what appointments are offered online or to weigh appointment times, giving priority to time slots that are typically more difficult to book or steering patients to open appointments next to a time that is already scheduled.
And, by the way, appointments scheduled online reduce the number of inbound calls your staff has to answer, so efficiency of your team is improved.
Tracking Your Online Scheduling Leads
As a marketer, I spend quite a bit of my time (when I'm not writing killer Flex articles) tracking lead sources to gauge the effectiveness of marketing campaigns. In FlexBook, we include the ability to add tracking links that allow you to see where your online appointments are being scheduled from so you can prioritize those marketing efforts.
For example, one tracking link could be used on your Facebook page while another is listed on Instagram and your primary FlexBook URL is at home on your website. FlexBook can use these links to determine where the appointment was initiated from and let you know which marketing channels are providing the most online bookings. Pretty smart, huh?
A Boost in New Patients
When FlexBook was launched in 2020, we knew it would be a great feature for Flexers but the average number of new patient appointments scheduled through FlexBook surprised even us. With roughly a year of data under our collective belts, the average number of new patients added by each practice via FlexBook per year was 144. That's plenty of opportunities to build lasting patient relationships that may not have ended up booking an appointment without an online option.
So, think about your website, and the potential of booking new patients through FlexBook online scheduling. Remember the 44% of people that would choose a practice that offers online booking over one that doesn't? FlexBook can help you get your share of those new patients.
A Paperless Experience That's Fast and Easy
I'm the kind of guy that likes to get stuff out of the way, so I try and get tasks off my plate immediately. When I go to the dentist, I'd much rather get my health history, insurance changes, and any other paperwork completed before I get to the office, as opposed to spending 10 minutes in the waiting room hunched over a clip board trying to complete a stack of forms with a pen that barely writes.
If you immediately related to that last comment, then you'll also relate to this. It's nice when things are easy. Paperless forms, like those found in Flex, help to provide a patient experience that's memorable for the right reasons - they're easy to fill out and submit prior to arrival at the practice, they can be pre-filled with demographic data so there are less fields to complete, and there's not a pesky, no-ink-in-this-pen situation.
Flexible Payment Options For Improved Collections
When was the last time you wrote a check or even paid cash for something? Almost every transaction I make is electronic, either online or in-person. Patients want flex-ability (see what I did there?) in how they receive statements and pay bills. So get FlexPay going and let your patients know you've added online payments to improve their experience!
FlexPay gives your patients the ability to receive secure statements via email or text and pay them online. While you can also accept payments in your office via a tablet or even directly from a treatment plan, remote online payments are where you make the most noticeable contribution to a great patient experience. And, again, FlexPay removes the burden of sending statements and making collection calls from your staff and lets Flex do the heavy lifting.
Treatment Plans to Sell More Dentistry
If I had to pick one feature that really defines Flex and the attention to detail that we put into our software, it would be our treatment planning module. It's great for several reasons but, from a marketing perspective, it really shines. Our treatment planning module has a modern design, it's easy for patients to understand, includes payment options that patients can choose from and, in the process, helps you improve your case acceptance.
Flex's treatment plan presentation module reinforces the importance of communication between doctors and patients, ultimately allowing patients to be more educated about the dentist's recommendation while opening up a conversation to get the treatment scheduled and moving forward.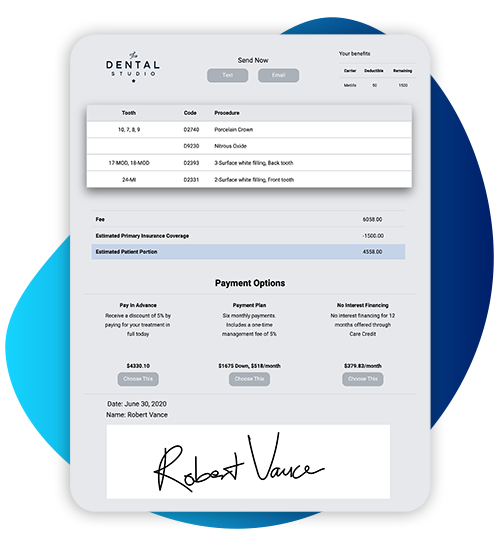 Online Review Requests to Build Your Reputation
How many 5-star reviews does your practice have on Google or Facebook? Use our online review requests to gather 5-star feedback from your patients that are ready to rave about their experience. By making the patient's experience easy, convenient, and their treatment exceptional, you'll be collecting 5-star reviews in no time. And, Flex's automation makes it easy for your team too!
The Perfect Side-Kick to Open Dental
At Flex, we aren't shy about our pride in what we do. We've built a patient communication system that integrates into Open Dental intelligently and seamlessly so that you can augment the great aspects of your practice management system with our Flex-pertise.
Like any great sidekick, we work alongside you to build upon your strengths and even provide you with some capabilities you may not have realized you needed. And, if you're lucky, we may even occasionally throw out a witty, Robin-worthy one-liner.
Ready to Learn More About Flex?
If you're an Open Dental user looking for a patient communication solution, please ask for opinions of our solution from other Open Dental practices. We pride ourselves on creating Flex fans for life. The words of our customers are our best reference and we think you'll like what you find.
Our team members are all what we affectionately call "Flex-perts" and make it a priority to address all requests quickly and knowledgeably. If you have any questions or would like to learn more, please click the button below and submit your questions online. A member of our team will connect with you shortly and help you understand the value that Flex can bring to your practice and your patients.