What is Flex and What Can It Do For Your Practice?
Smart, Yet Intuitive Patient Communication Tools for Open Dental
Since you've made it to our website, you're likely researching patient communication solutions for Open Dental and found Flex. You're in luck. Building efficient patient communication and engagement in Open Dental is what we are all about. We're glad you're here and we think you will be too!
Flex was built differently, right in an actual Open Dental practice. The foundation of Flex was crafted by Open Dental users rather than by suits in a boardroom looking for the next big thing to sell to the dental market. The bottom line is that we know your workflows and how to make the tasks that are important to your practice work more efficiently, keeping your patients more engaged and your appointment book full.
So let's talk about Flex and everything it can do for your practice, which is a lot. We call it Flex-Ability (insert groans from my kids):
Flex
Elegant Treatment Planning and Payment Plans
Let's say you need a way to present your recommended treatment plan to your patient, including payment options. Flex allows you to open a tablet, show your patient exactly what treatment you're recommending, and what options they have for payment. The payment options are completely customizable, so you can show them upfront payments, payment plans, financing or any other method you would like. Then, the patient can select their payment option and you can process their payment immediately from the treatment plan using FlexPay (more on that later).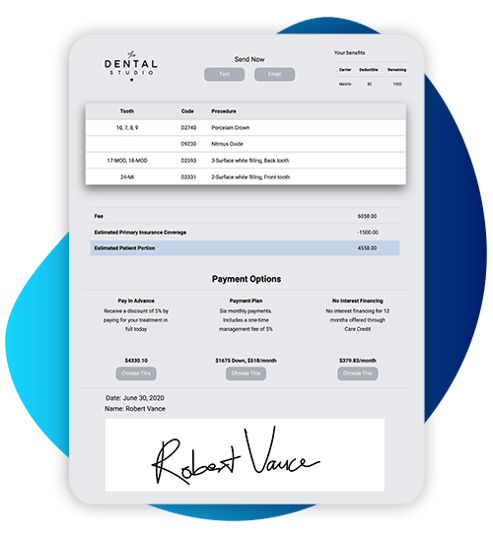 Zero-Effort Patient Communications. At Least on Your Part.
Let's be honest - making recalls, sending appointment reminders, following up on unscheduled treatments and keeping your patients engaged with your practice isn't fun. It's time consuming and prevents your staff from being able to focus on other tasks BUT it IS necessary. So why not make it easier?
Flex puts in tons of effort in managing patient engagement via email and text so you don't have to. If you have some open appointment times you need to fill in your schedule, you can utilize Flex to send an email or text communication asking your patients with unscheduled treatments if they would like to move forward and book their appointment. Here are just a few other communications that Flex can provide and they are all customizable. You just pick the the message and the timing:
Send fully customized confirmation texts that auto update Open Dental

Give your new patients a warm welcome via email + link to complete forms

Recall overdue patients (and even let them schedule instantly w/FlexBook)

Gently nudge if planned treatment remains unscheduled

Help remind those that need to pre-medicate before an appointment

Send fun birthday emails with images, videos, GIFs and more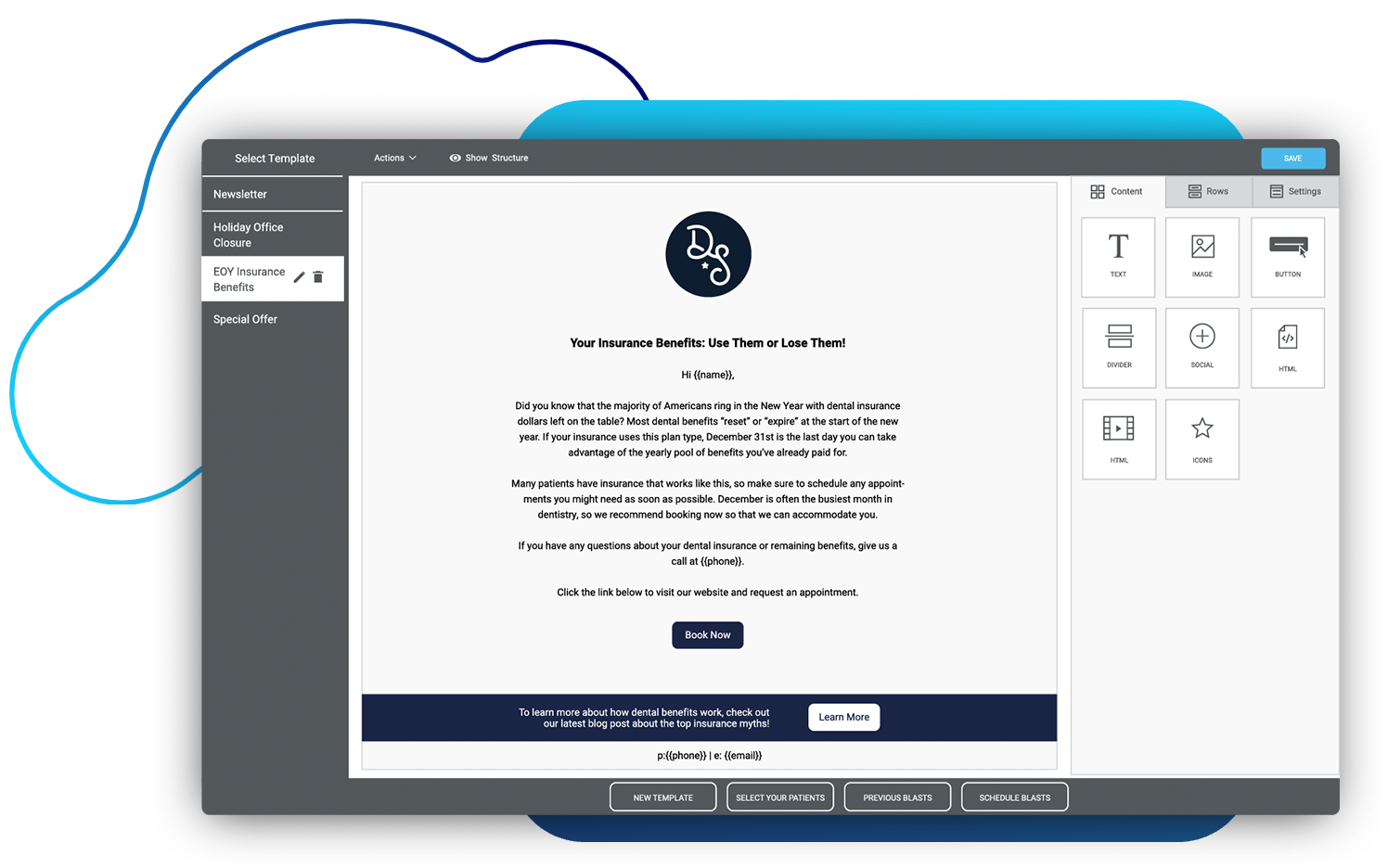 Smart Online Forms
If Flex forms were any smarter, they'd be self-aware.
Our forms improve the experience of your patients because they spend less time filling out stacks of paperwork and are able to get in the chair quicker. Flex forms are a snap to complete and fully integrate back into Open Dental without even a single click.
As with all Flex tools, our forms are easily customizable and update dynamically in response to patient inputs — patient age, gender, insurance status, current health status, marital status, and current medications are taken into account to streamline which questions are presented. Your patients won't be asked questions that Flex knows do not pertain to their demographics. We told you our forms are smart.
Forms are even automatically emailed to new patients but can just as easily be texted or completed in-office on a tablet.
Have a patient coming up that needs an updated medical history? Flex can send those forms pre-filled with existing information ahead of their next appointment so your patient can quickly provide updates.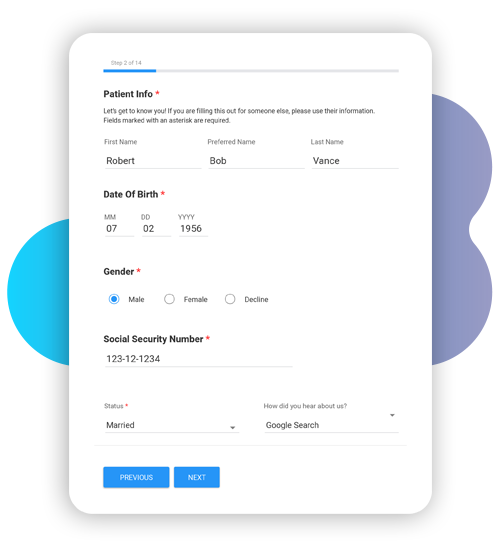 FlexBook
There are quite a few online scheduling platforms out there but how many can steer your patients toward times that you need to fill or encourage scheduling next to other appointments you already have on the books? The human-style scheduling of FlexBook adapts to efficiently fill your appointment book, just like your staff does when a patient calls in. Yes, Flex can do that.
In fact, based upon numbers provided by our actual users, FlexBook utilization has resulted in an average increase of 144 new patients per practice. The reason is clear - increased engagement via Flex combined with FlexBook's smart (and convenient) scheduling options for your patients leads to more appointments being booked.
FlexBook is also the only platform to let you account for assistant and provider time, even across a group of operatories -- perfect for assisted hygiene or ensuring a doctor's availability to see a same-day emergency appointment, even when they work out of multiple operatories.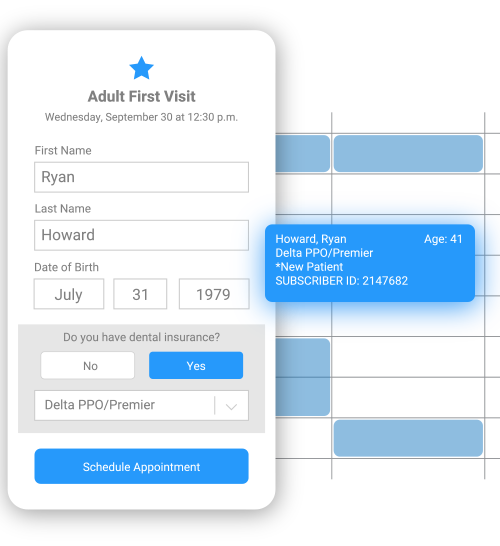 FlexPay
Remember those treatment plan payments we mentioned earlier? Have a patient pay directly from a treatment plan via a tablet or from a patient-specific statement that you can securely text or email — no online portal or special logins required. Flex makes it quicker (and easier) to collect from your patients and it's more convenient for the patient too.
Once a payment is made, all transaction details are immediately posted to the patient's account, which even includes the individual procedure allocations -- another Flex exclusive. All you have to do is watch those payments roll in, your accounts receivable improve, and your practice become more profitable.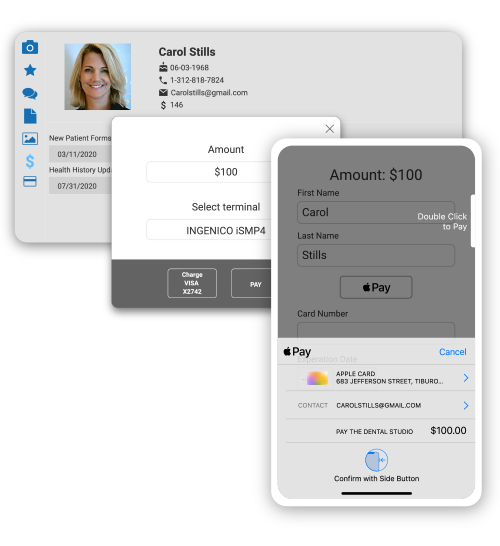 Online Reviews
Build your online reputation and start compiling those positive reviews from patients that love the convenience of all the benefits Flex brings to your practice. 5-star service indeed.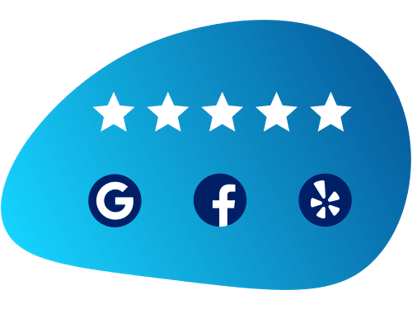 Get Started with Flex
Flex has tons of good things in store right out of the (virtual) box, so you can get up and running quickly and start improving that efficiency. We've also built Flex to be extraordinarily customizable for those practices that have unique processes that they rely on. So, if you have specific forms or workflows your team can't live without, Flex can adjust however you need. We call it being Flex-Able (dad joke #2 - the kids are now leaving the room).
Corny jokes aside, we're serious about how much we know you'll love Flex. Drop us a line and let us know how we can give your practice more Flex-Ability - we will contact you to get things started.
Ready to learn more?
If you're an Open Dental user looking for a patient communication solution, please ask for opinions of our solution from other Open Dental practices. We pride ourselves on creating Flex fans for life. The words of our customers are our best reference and we think you'll like what you find.
Our team members are all what we affectionately call "Flex-perts" and make it a priority to address all requests quickly and knowledgeably. If you have any questions or would like to learn more, please click the button below and submit your questions online. A member of our team will connect with you shortly and help you understand the value that Flex can bring to your practice and your patients.