Flex covers the bases of optimizing patient communications and making your team more efficient. Among the many features of Flex is FlexPay, our online module that allows you to accept payments in your practice or through statements that can be sent to your patients via email or text. Let's take a quick look at the features of FlexPay and how it can boost collections for your practice.
An Overview of FlexPay
FlexPay works in conjunction with several other Flex features to make payments easy by offering different avenues that your patients can take advantage of to pay their bill, whether the patient is standing in your practice or miles away.
You can have a patient pay directly via a tablet or from a patient-specific statement that you can securely text or email. Our goal with FlexPay is to streamline the collection process for both your practice and your patient, so money comes in faster and your patients have convenient options that make their lives just a bit easier.
In-Person Payments
Your first option for collecting in-office payments via FlexPay is through a treatment plan. Our treatment planning module includes integrated payment options, which are completely customizable. So, you can present treatments while showing patients advance payment, payment plan or financing options. Once your patient chooses the payment option they would like to go with, they can immediately provide their credit card information via FlexPay.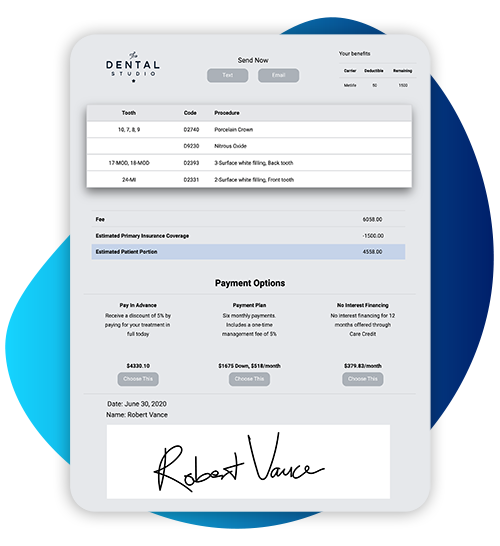 The second option for you to accept an in-person payment via FlexPay is to click the credit card icon from the patient account in Flex. The amount being paid will default to the balance on the account. Once "pay" is clicked, your payment terminal provided by CardConnect or Moolah is activated and the card can be processed. You also have the option to utilize manual entry for the card number. If your merchant processing account is with CardConnect, you may use any stored payment method already saved on the patient account.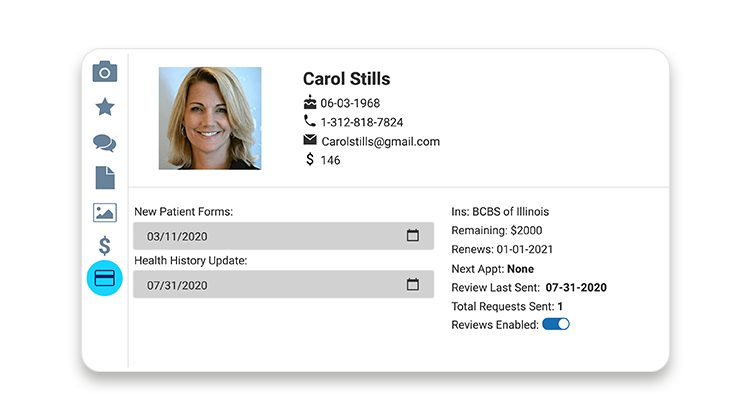 Here's a short video that shows how you can accept in-office payments via FlexPay, either via a treatment plan or the patient account in Flex. Get your popcorn ready but eat quickly!
Online Payments
Paper statements are expensive, inefficient and often end up in the garbage or recycle bin. FlexPay includes the ability to send custom account statements to your patients electronically via email or text. Once a patient receives an email or text notification, the link will open in a web browser and they will access the statement by entering their date of birth. The pre-populated statement will include options to view their detailed statement, make a payment for the full balance or pay a different amount. The patient enters their payment amount, their credit card number, clicks "pay now" and that's it. Open Dental is immediately updated, with the completed payment automatically added to the patient's account.
Automatic Procedure and Provider Allocations
Now that the patient has made a payment, what happens next? Well, we could have just designed Flex to drop lump sum payments into accounts in Open Dental, leaving you to figure out how to allocate the money across treatments and providers. That just didn't sit well with us - we wanted to make Flex a bit more spicy. So, we added automatic procedure and provider allocations.
Every payment you receive is divided and allocated to the appropriate procedure and provider with no effort on your part. So, rather than getting out your calculator and crunching numbers, you can continue to focus on knocking out some of those other tasks that are begging for your time. And, you guessed it - this is exclusive to Flex.
Our FlexPay Partners
In order to use FlexPay, you must have a compatible credit card terminal and a merchant payment processing account. Flex has partnerships with two payment processing providers - CardConnect and Moolah. Both companies integrate with FlexPay and offer payment processing services along with the latest credit card terminal devices. Both also offer very competitive transaction rates.
We are very selective about what companies we build relationships with so that we can ensure that our mutual customers have an experience that is 360 degrees of awesome.
You can check out the links below for more information on CardConnect and Moolah.
How to Get Started With FlexPay
FlexPay is included with our standard monthly Flex subscription at $299 per month. As mentioned, you will need to choose Moolah or CardConnect for payment processing and to get a compatible credit card terminal.
If you are already a Flex customer (or Flexer) and would like to begin using FlexPay, let us know! Our team will be happy to talk with you and get you started. We will also connect you with Moolah and/or CardConnect so you can get a credit card terminal and merchant processing account set up.
Once you have your merchant processing account and terminal, we'll schedule a quick FlexPay training with your team to make sure you have all the knowledge you need to start using FlexPay like a pro.
Not a Current Flex User?
If you're not a Flexer, we do way more than just online payments and would love to connect with your team. FlexPay is just the tip of the iceberg with regard to the superpowers Flex can add to Open Dental.
We offer demos on your schedule and take a no-pressure approach to Flex - we simply explain what Flex does, what services you get with our Flex and Flex+ options, and our monthly subscription rates. From there, it's up to you to decide if Flex is a fit for your practice. Click the button below to connect with our team!